Now and Next
Join us for two information-filled days at the CTA Cannabis Travel Summit on December 14-15. We'll be going virtual to better accommodate all our members who hale from all over the world.
Open to all cannabis and travel industry professionals, this is your opportunity to learn about the cannabis travel landscape from forward-thinking professionals from across the cannabis and travel industries.
The most anticipated event of the two days will be a deep dive into CTA's Annual Data report on Now and Next.
You'll see where this burgeoning industry stands as of today and be privy to the expert's crystal ball predictions on what this data means going forward.
Don't miss this chance to make informed business decisions and plan your strategies for the year ahead.
Sponsorship Opportunities
You can check out our Sponsorship page by clicking here.
International Guest
For all international tickets please contact EventHi's support team and they will assist you with your ticket order.
Schedule
December 14th, 2021 (9:00 am – 12:30 pm PST)|
December 15th, 2021 (9:00 am – 12:55 pm PST)
Day 1
Annual Summit Welcome: – Georgi Gordon
Head of CTAI Membership, Georgi Gordon gives a warm welcome to all attendees and provides a high-level overview of this year's two-day Cannabis Travel Summit program.
NOW: 2021 Cannabis Travel Trend Recap – Dr. Amanda Reiman
Dr. Amanda Reiman provides a 'State of the Union' style update about the cannabis travel trend today and summarizes the important CTAI milestones and accomplishments of the past year.
2021 State of Cannabis Tourism Data Publication – Susan Dupej / Jocelyn Sheltraw
Canada-based cannabis tourism researcher Susan Dupej and Headset's Jocelyn Sheltraw present the data and insights from the CTAI 2021 State of Cannabis Travel data publication. Discover the most up-to-date cannabis travel data – a 360 view of the cannabis trend as it exists today!
Hotels Perspective of Cannabis and Hemp – Peter Gamez
Visit Oakland CEO Peter Gamez explores the intersection of hotels and cannabis. You will learn about the role of hotels in a destination, how to partner, and what the hotel perspective is on the cannabis-related travel trend.
Cannabis Retail Experiences for the Visitor Economy – Jerred Kiloh
Cannabis industry leader Jerred Kiloh discusses the importance of the cannabis retail and consumption experience for visitors. Come and learn about cannabis retail and consumption as a destination attraction and travel experience.
Experience Curation for the Cannabis-interested Traveler – Laura Hand
Customer journey curator and cannabis experience design expert Laura Hand will share surprise and delight strategies for the cannabis-interested traveler. From the canna-curious traveler to the cannabis connoisseur, learn how to attract and serve this new audience.
The Rise of Cannabis Beverages – Matt Cohen
CEO of Purejuana Matt Cohen will share about cannabis beverage disruption and how cannabis mocktails will add a new and exciting element to destinations with events and pop-up activations. Learn about the next frontier of cannabis food and beverage
Closing Statement – Georgi Gordon
Virtual Networking: Enjoy a fun and interactive 60 minutes virtual networking session. Meet our Cannabis Travel Association members and partners, and other like-minded professionals from around the world.
Day 2
Welcome – Head of CTAI Membership, Georgi Gordon
Gives a warm welcome to Summit attendees and provides a high-level overview of day two of the Cannabis Travel Summit program.
NEXT: 2022 Cannabis Travel Trend Forecast – Brian Applegarth
CTAI Founder and Chair Brian Applegarth forecasts the year ahead. Learn about which destinations are may legalize and which cannabis travel trends are likely to shine in 2022.
Diversity, Equity and Inclusion – Viola Ncube
Seasoned travel industry consultant Viola NcNube outlines the 2022 CTAI plan and key milestones for DEI strategy.
KEYNOTE: State of the Travel Industry – Barb Newton
The Covid-19 pandemic greatly disrupted the world and the travel industry along with it. The global travel industry is reimagining how to build back better and recover. Keynote speaker Barb Newton of the California Travel Association provides a hard-hitting state of the union for the travel industry and shares about the most pressing problems we need to address together as a travel community.
Destination Deep Dive: Integrating Cannabis – Todd Aaronson
In 2021 Visit Modesto launched a first-of-its-kind gamified cannabis travel guide that drew national attention. CEO of Visit Modesto Todd Aaronson shares insights and strategies for integrating cannabis into a destination's experience offering.
Cannabis Events as a Destination Driver – Adelia Carrillo
CMO of EventHi Adelia Carrillo shares about the power of cannabis-themed events. Come learn how B2B and B2C cannabis events are evolving and what the opportunity is for destinations and venues.
Cannabis-infused Weddings, Meetings, Conferences – Philip Wolf
Founder of Cultivating Spirits and co-founder of Cannabis Wedding Expo, Philip Wolf shares about curated cannabis experiences in hospitality. Come and learn about sophisticated cannabis-themed dinners, tasting, and pairings.
Cannabis as a Destination Differentiator – Scott Schmidt
Executive Director of the Emerald Village Scott Schmidt shares how West Hollywood's cannabis lounges and dispensaries are collaborating to seize the cannabis travel trend opportunity. Come and get a glimpse into the future of urban cannabis travel in a trendsetting California destination.
Closing Statement – Georgi Gordon
Networking: Enjoy another fun and interactive 60 minutes virtual networking session. Meet our Cannabis Travel Association members and partners, and other like-minded professionals from around the world.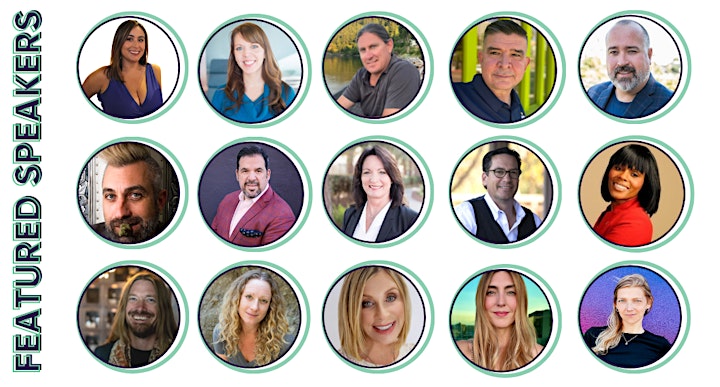 Thank you to our event sponsors: