Come celebrate Ellementa Chicago's 2nd Year Anniversary while learning about Cannabis and Fitness!
This Month: Cannabis and Fitness
If you've never been to an Ellementa Gathering before, you may not know how our Gatherings are very different from other cannabis events out there. This is not a lecture, this is not a business networking event. This is a vibrant, exciting, dynamic and personal sharing of wisdom and experiences.
Join us at this Ellementa Women's Wellness Gathering for empowering knowledge & conversation!
This month, we're talking about Cannabis & Fitness:
~~ What does cannabis have to do with working out and staying fit?
~~ How does cannabis promote recovery after your fitness routine or injury?
~~ How can you safely work out with cannabis and why do it?
~~ How can cannabis actually help reduce your appetite?
If you are looking to understand how cannabis interacts with your body and brain and want to improve your health and wellness or simply feel better, this Gathering is for YOU.
Learn from our local Ellementa Leaders, Guest Experts and Trusted Brands at Ellementa Women's Wellness Gatherings. Our female-forward events are warm, comfortable and welcoming to women/female-identified who are new to cannabis as well as the more experienced.
Share knowledge. Take charge of your health. Get inspired. And bring a girlfriend!
We look forward to seeing you! #FeelBetter


ABOUT ELLEMENTA:
Cannabis has been used to enhance women's health for centuries. Ellementa organizes Gatherings in over 50 cities connecting women to cannabis experts and brands. Learn about cannabis for health, wellness, self-care, and caregiving. These are non-consumption, educational monthly events for women/female-identified exclusively. We create welcoming spaces where women can come together to speak openly about cannabis wellness.
At each monthly Ellementa Gathering, we'll explore different aspects of cannabis to empower you with knowledge. If we don't know the answers, we'll find them!


YOUR LOCAL LEADER…
This Gathering discussion will be led by, Ellementa Gathering Leader Melissa Pierce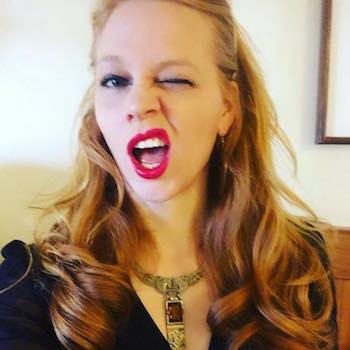 Melissa Pierce has spent some portion of her life as a filmmaker, life coach, reiki master, computer coder, women's rights activist, and corporate mastermind. Currently, she works to enrich women's lives through her work with Ellementa, which she co-founded.



DISCLAIMER:
Ellementa Gatherings are non-consumption events. Ellementa does not condone the consumption of cannabis on the premises of Gatherings. If consumption does take place at the event or any product is obtained at the event that is consumed after, attendees consume at their own risk and fully indemnify Ellementa, Inc. and its stakeholders from any responsibility. Everyone attending this event or other Ellementa events confirm they are 21 years of age or over (19 years or older in Canada) and fully responsible for their own actions.
REGISTER FOR A WEBINAR!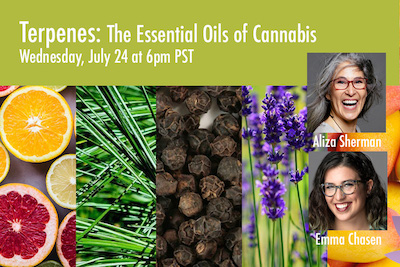 Linalool, Myrcene, Limonene, Oh My! This month, we're talking about Cannabis & Terpenes. Sign up for our FREE July Webinar and get a recording of the whole thing. Join Ellementa CEO, Aliza Sherman, and Emma Chasen from Eminent Consulting for an engaging and informative LIVE video conversation. Register Today!