Let's Watch a Movie Together: Film Screening: Breaking Habits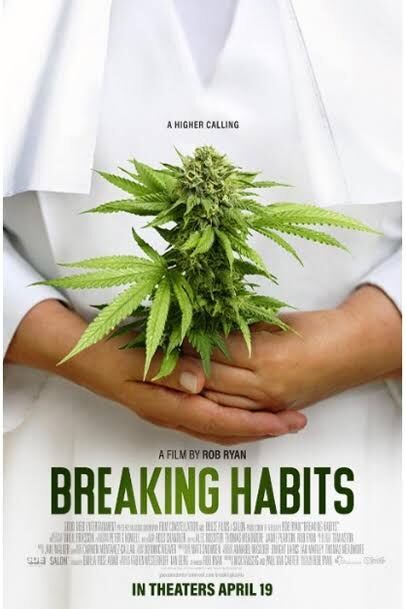 ABOUT THE FILM: Cheated by her stealing, polygamist husband of 17 years, once high-flying corporate exec Christine Meeusen fled penniless with her three young children as her American dream began to unravel. Determined to make a living for her family, she discovered the business of marijuana farming and met her calling as founder of medicinal-marijuana business Sisters of the Valley. Shedding her former life, Christine became Sister Kate; on a mission to provide her products to those in need. Fighting off the county sheriff, and protecting her crop from deadly black market thieves, BREAKING HABITS is a story of rebellion, hope, and revival. This is the incredible true story of Sister Kate's journey to becoming the head of a fast-growing enterprise, a voice for the unheard—and possibly the most controversial nun in the world.
Join us at Ellementa Women's Wellness Gatherings for empowering knowledge & conversation!
If you've never been to an Ellementa Gathering before, you may not know how our Gatherings are very different from other cannabis events out there. This is not a lecture, this is not a business networking event. This is a vibrant, exciting, dynamic and personal sharing of wisdom and experiences.
We look forward to seeing you! #FeelBetter
Giveaway!
Start your wellness journey with this Signature No Borders Naturals 3-Piece Gift Set. Coming from the highest quality lab tested hemp on the market today.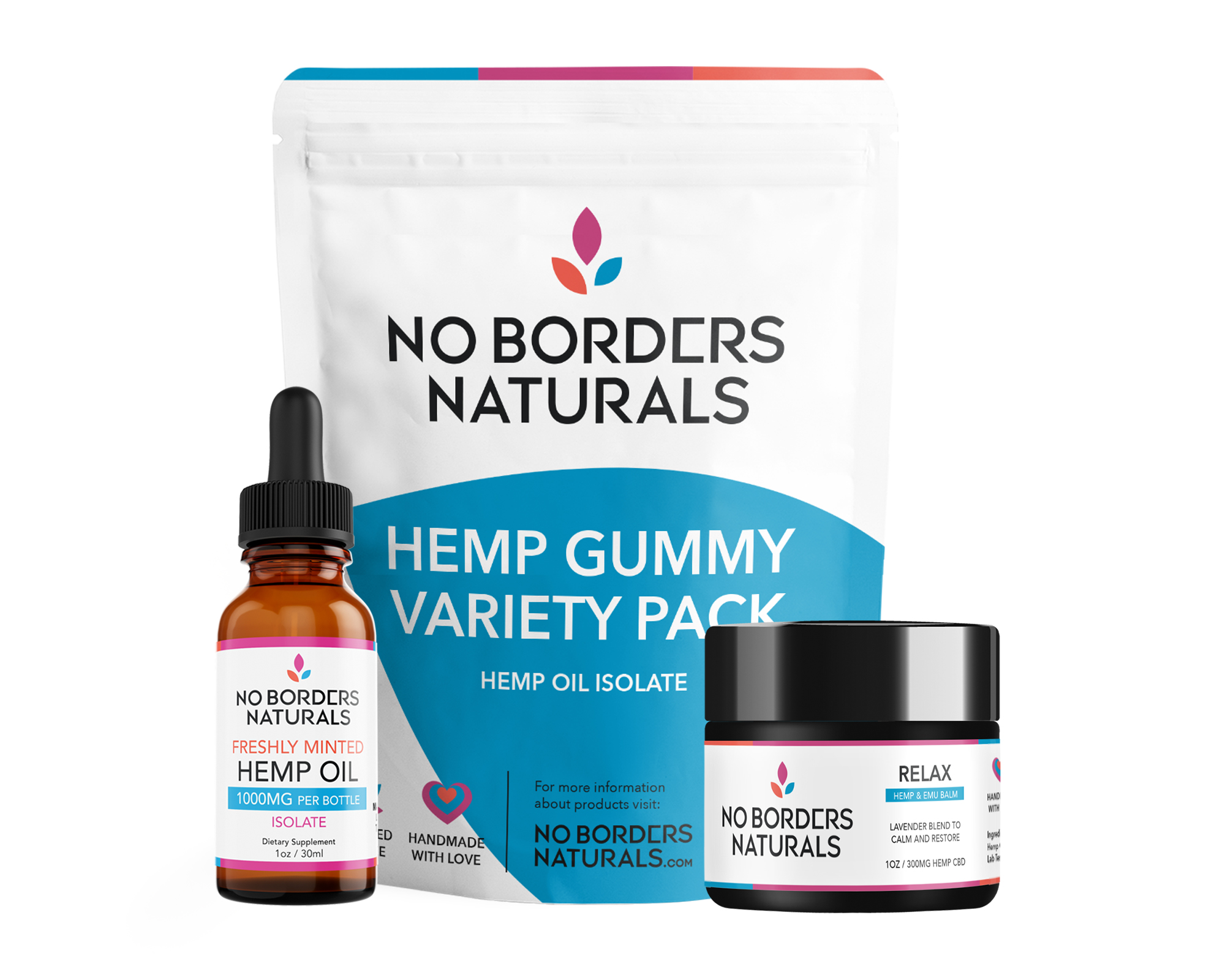 Products Included: 1x 1000mg Tincture, 1x Relax Muscle and Joint Rub 160mg, 1x 400mg Gummy Variety Pack.
Perfect for Active Lifestyles
Lab Tested Hemp Oil Isolate
Individually infused pieces – Approx. 20mg per piece
We're giving this set away at this Gathering! Must be present to win.
ABOUT ELLEMENTA:
Cannabis has been used to enhance women's health for centuries. Ellementa organizes Gatherings in over 50 cities connecting women to cannabis experts and brands. Learn about cannabis for health, wellness, self-care, and caregiving. These are non-consumption, educational monthly events for women/female-identified exclusively. We create welcoming spaces where women can come together to speak openly about cannabis wellness.
At each monthly Ellementa Gathering, we'll explore different aspects of cannabis to empower you with knowledge. If we don't know the answers, we'll find them!


SPONSORED BY…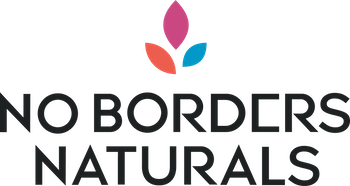 All No Borders Naturals products are made from sustainably sourced, all natural raw materials that are lab tested for purity and potency. They are proud to offer an ever-expanding line of high-end wellness products including CBD Joint & Muscle Rubs, CBD Massage Oils, CBD Lotion, K9 CBD tinctures, Wellness CBD tinctures, CBD Vapes, and CBD Edibles.

Equilibria is a farm-to home women's wellness company. We deliver full-spectrum, phytocannabinoid-rich hemp flower extract — high quality you can trust, batch after batch, month after month.
YOUR LOCAL LEADER…
This Gathering discussion will be led by, Ellementa Gathering Leader Melissa Pierce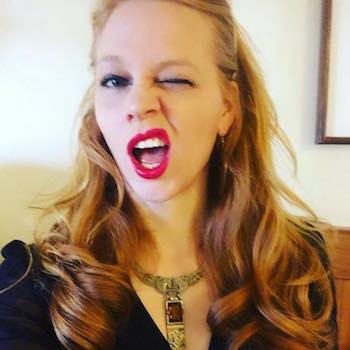 Melissa Pierce has spent some portion of her life as a filmmaker, life coach, reiki master, computer coder, women's rights activist, and corporate mastermind. Currently, she works to enrich women's lives through her work with Ellementa, which she co-founded.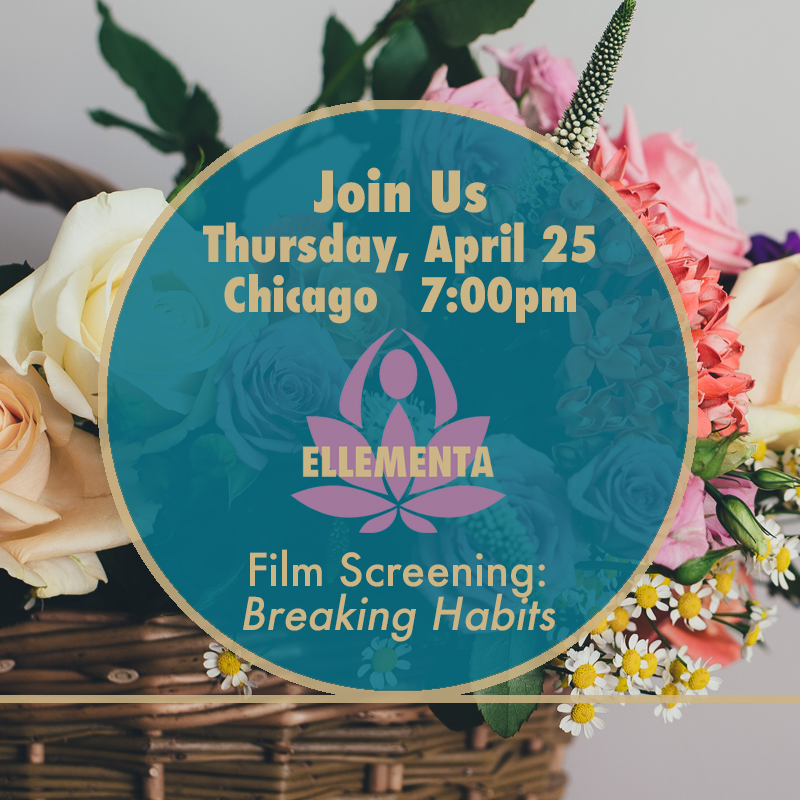 DISCLAIMER:
Ellementa Gatherings are non-consumption events. Ellementa does not condone the consumption of cannabis on the premises of Gatherings. If consumption does take place at the event or any product is obtained at the event that is consumed after, attendees consume at their own risk and fully indemnify Ellementa, Inc. and its stakeholders from any responsibility. Everyone attending this event or other Ellementa events confirm they are 21 years of age or over (19 years or older in Canada) and fully responsible for their own actions.
Take Our Survey on Microdosing!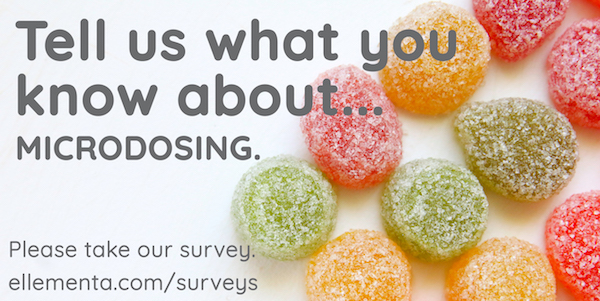 We want to know what you know about microdosing. Even if you don't know what it is, we want to hear from you! http://ellementa.com/surveys
Join us for a Webinar on April 17!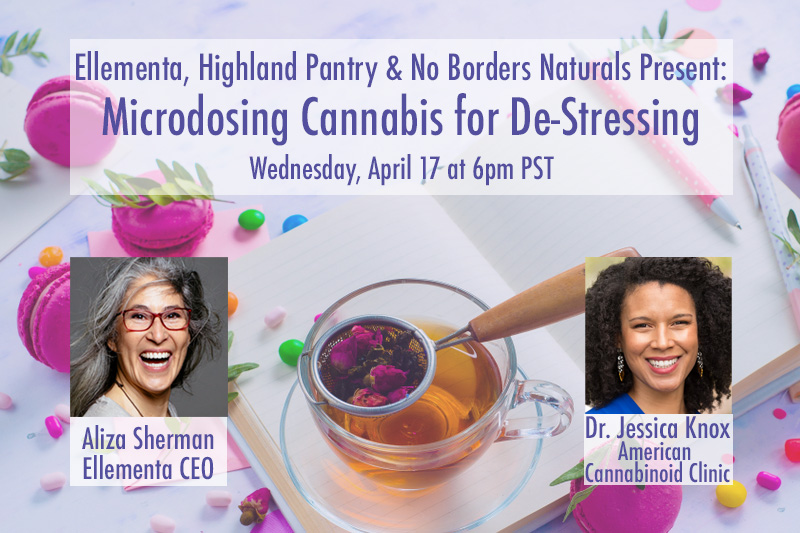 Sign up for free and receive a recording after!
April 17th Wednesday at 6pm, join us for a webinar on Microdosing with Dr. Jessica Knox!