(50% Off Promo)
Come learn about the medicinal, health and wellness benefits of cannabis and enjoy some meditation, art, music and food!


Join other adults, seniors, medical patients, veterans, and other cannabis consumers for a day full of fun and relaxation.
The State of Cannabiz – Health & Wellness Fair will allow adults 21+ to purchase and consume cannabis products onsite (flower, edibles, vapes, topicals, tinctures and more). Activities, educational seminars and workshops will also take place during the event for novice and experienced consumers.
GENERAL INFORMATION & TICKETS
$25 General Admission (includes free swag bag and 1 raffle ticket)
$35 VIP Admission (includes free VIP swag bag, VIP Area access & 5 raffle tickets)
For additional information or tickets please visit, www.stateofcannabiz.com.
TARGET AUDIENCE (1,500+ Attendees)
Adults 21+, Seniors, Veterans & Medical Patients / Novice & Experienced Cannabis Consumers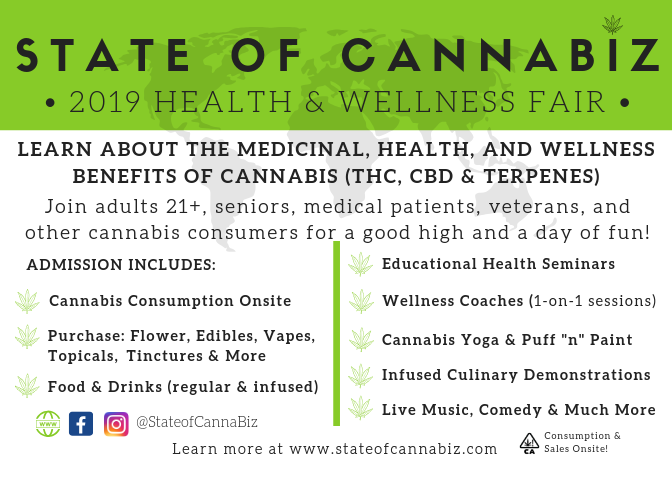 General Admission Includes:
1. Workshops and Seminars:
Health and wellness, fitness, exercise and nutrition.
Medical educational seminars for medical patients and healthcare providers.
Latest bio-science technologies, innovation, products and consumer trends.
2. Activities:
Onsite Consumption & Sales
Educational Health Seminars
Yoga & Meditation & Puff "n" Paint
Live Music & Comedy
Photo Booth and Much More...
3. 35+ Exhibit Booths (CBD & THC vendors onsite)
4. Food, Edibles & Drinks (regular & infused)
AGENDA
9:00 am - Event Opens to Public
9:15 am - Yoga & Meditation Begins
10:00 am - Exhibit Booth Area Opens
10:15 am - Food & Concession Stands Open
10:30 am - Puff "n" Paint Begins
11:00 am - Educational Health Seminars Begin
12:00 pm - Live Music Begins
4:20 pm – Comedy Happy Hour
6:00 pm - Exhibit Booth Area Ends
7:00 pm – Event Closes to Public


CONFERENCE SCHEDULE (45 Minute Sessions)
11:00 AM
Cannabis as Medicine – Learn about the history of Cannabis in America (how it got prohibited and how it came back), the Endocannabinoid system and how cannabis works as medicine and why should you take it. This presentation will explore treating symptoms vs treating diseases, side effects, myths and methods of
administration.
12:00 PM.
Cannabis Cultivation (Personal) – Do you cultivate or want learn from the experts on how to grow quality cannabis in your home – outdoors and indoors. This presentation will provide information on how to select the right location – indoor vs. outdoor vs. greenhouse, lighting, selecting the right strains and costs. Participants will as so learn when to harvest, trim, deal with pests and how to grow more than one crop a year (quality and quantity).
1:00 PM
Cannabis & Veterans – Learn about the opportunities and challenges with providing cannabis for veterans as a treatment for pain and PTSD. This presentation will also discuss different resources such as, the V.A., rehabilitation centers and other programs to provide treatment, support and cannabis to veterans.
2:00 PM
Cannabis Laws – Find out about the latest legislation coming out of Sacramento – analyze the bills still in consideration – what has passed, what has failed. Where are we in getting CA Cities and Counties to allow cannabis businesses and commerce. Can federal cannabis prohibition end in 2019? Programs to influence legislation on the local, state and federal level.
3:00 PM
Cannabis Social Justice - Explore the efforts to right the wrongs of "the war on drugs," and the emerging opportunities in the cannabis industry.
4:00 PM
Cannabis Comedy Hour - Come laugh and enjoy a good high with some of the best 420 comedians in the industry.
5:00 PM
Cannabis Culinary Demonstration – Come learn and see a culinary showcase on how to cook with cannabis (CBD, THC and Terpenes) and how it can elevate cuisine, even in the absence of a high.
5:30 PM - Quinto Sol (Live Performance)

SPONSORSHIP & EXHIBIT BOOTHS
Luis Rivera, CEO, Collective Strategies
Cannabis Event Organizer (Lic.#: CEO-14-0000035-LIC)
Cell Phone: (818) 438-0840
lrivera@collectivestrategiesla.com