We are excited to announce the first ever National CannaVote Expo to be held in Washington, DC on Saturday September 28, 2019 at the Gateway Pavilion from 1p-7p.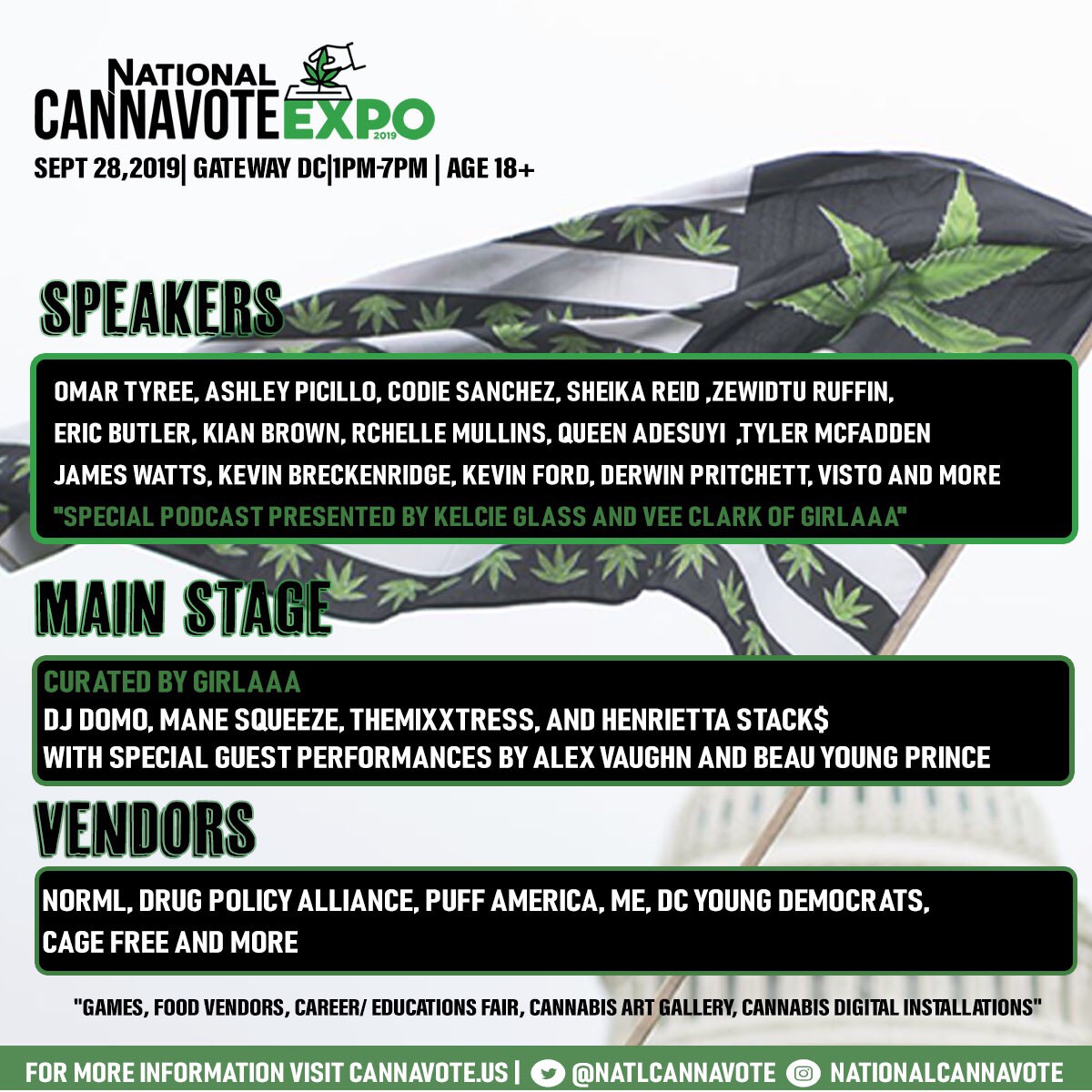 Expo Schedule:
Panel Discussions (Rise Center at Gateway DC w/ Green Pass Only)
1pm-2pm "Candidates for Cannabis 2020"
2:15pm-3:15pm "Prison Reform | Breaking the Chains of The War on Drugs"
3:30pm-4:30pm "I Got Five On It | Starting a Business & Investing in the Cannabis Industry"
4:45pm-5:45pm "Women & Minorities in the Cannabis Industry"
GIRLAAA Podcast & Grow Panel Schedule (Pavillion at Gateway DC w/ General Admission)
2pm-4pm GIRLAAA Podcast "Buy Weed from Black People: Navigating the Cannabis-Industry as a Person of Color"
4:15pm-5:15pm "Growing 101"
Main Stage Curated by GIRLAAA 1PM-7PM
1pm-2:30pm Henrietta Stack$
2:30pm - 4pm The Mixxstress
4pm - 5:30pm Mane Squeeze
5:30pm - 7pm DJ Domo
Special Guest Performances
Alex Vaughn
Beau Young Prince
CannaVote is a political concept derived from the need to have more people involved in the voting process. Since it has been well documented the largest voting group is between the ages of 18 to 35, we thought it necessary to offer a reason for voting that resonates with that age group and but would still connect with all other ages as well. Despite a host of issues to engage this powerful group of voters, there is no other issue that will bring them to voting polls other than the total legalization of cannabis. With that said we are creating a call to action in support of the MORE Act.
Our CannaVote campaign directs all eligible voters to support our concept to vote locally, statewide and nationally for candidates who have shown a true interest or a proven track record to end the war on cannabis, remove it from the federal schedule 1 most dangerous drugs list, legalize it in every city, country and state in America, to free all those arrested for nonviolent marijuana related crimes and to immediately expunge their records. The MORE Act addresses all these concerns.
Through the National CannaVote Expo we plan to EDUCATE, EMPOWER, and CONNECT. There will be several booths where attendees can sign a petition to support the Act.
This expo will:
1. Educate voters on elected officials and presidential candidates voting record on cannabis and cannabis related issues.
2. Educate you on the laws, and bills needed in order to create a total legalized cannabis industry
3. Connect with successful business owners, investors, and physicians in the industry to answer your burning questions.
4. Stomp out the myths about cannabis.
This is an expo unlike any other, and you need to attend if you:
-Are looking to create a business that will offer freedom in your life
- Want to get in on a market in the beginning stages
-Know that this business is for you, but don't know where to start
-Have money to invest and are looking for companies to help expand
What you will experience:
Panel Discussions
Career/ Health & Education Fair
Cannabis Digital Installations
Entertainment
Games
Food
Cannabis Art Gallery
And so much more…
It's time to take a stand on laws that involve your community and your country. Start with CannaVote!
For press and media send email to press@cannavote.us
For sponsors and partnerships send inquiry to partnerships@cannavote.us
Interested in becoming a vendor? Fill out vendor form here: https://docs.google.com/forms/d/e/1FAIpQLScjXG7YioFVfoEDNq2fNcYBh7rsTkrYee-hxlm5A6liTuqizw/viewform